Our
Job postings
A company is only as good as the people behind it. The most beautiful philosophy, the best machines and the most perfect logistics are of no use without committed people who fill a company with life. We have them, and we are proud of our team. Our employees participate in the development of our company and are involved in the processes. Only in this way can we create a basis for a long-term relationship. Become a part of our cookie team now!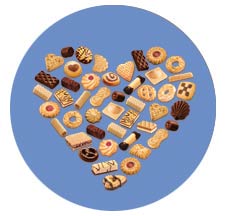 We bake what we love!
Looking for a holiday job?
Are you looking for a holiday job for the summer? We are looking forward to your active support at the Verden location. We are regularly looking for pupils / students to work with us during the holiday period.
Please fill in the attached form and send it back to us by e-mail to bewerbung@hans-freitag.de
For our production we are looking for
Production assistant (m/f/d) in full time in the shift model.
Your tasks:
Working on baking ovens or packaging machines
Collecting biscuits and wafers in boxes
Stacking filled and empty boxes on pallets
Pouring biscuits and wafers onto conveyor beltsWashing and cleaning boxes in the washing line.
What you should bring with you:
Reliability and ability to work in a team
Enjoy physical workWillingness to work shifts (early and late shift, voluntary night shift).
We offer you:
Payment according to the collective agreement, well above minimum wage
Shift bonuses
Annual special payment amounting to one month's salary
30 days' holiday per year and holiday pay
Two days off on Christmas Eve and New Year's Eve
Company pension scheme
Employee offers such as monthly biscuit bonuses and job bikeCentral location in the heart of Verden with good transport links.
If you are interested in working in a nice team, please send your written application to:
Verden biscuit and wafer factory
Hans Freitag GmbH & Co. KG
Mr. Andreas Schmidt
Siemensstr. 11
27283 Verden
Or gladly online to: bewerbung@hans-freitag.de
On 1 August 2023, we are looking for you for an
Training as a confectionery technologist (m/f/d)
What awaits you:
The focus of this apprenticeship is on the production of long-life baked goods. At our plant in Schneverdingen, you will learn everything about the production of our popular long-life baked goods as part of a 3-year dual training programme.
You will learn about the processes from the receipt of raw materials to the finished packaged product and will be responsible, among other things, for setting up, monitoring and operating computer-controlled production and packaging systems in compliance with hygiene guidelines and quality standards.
You will attend school at the ZDS in Solingen (http://www.zds-solingen.de) (block teaching, accommodation on site). There you will be trained in all areas of confectionery production.
You can find more exciting information about the profession of confectionery technologist (m/f/d) at the following link:
https://www.bdsi.de/verband/aus-und-weiterbildung/ausbildung-suesswarentechnologein
What we can offer you:
30 days' holidayhigh chances of being taken on if you complete your training accordinglyfair apprenticeship pay:    

1st year of training 980.50 €
2nd year of training 1,074.00 €
3rd year of training 1,169.00 € 
Fixed contact person during training Preparation for exams
What you should bring with you:
You should have at least a good secondary school leaving certificate and an interest in technical processes, be committed, enjoy working in a team and be willing to work shifts.
Have we aroused your interest?
Then apply now and become part of our team.
Heidekeks GmbH
Mr Ralf Böhling
Am Bahnhof 8
29640 Schneverdingen
ralf.boehling@heidekeks.de